When you think about detox foods, you probably think of foods that are good for you, but not exactly something that's crave-worthy like this Cauliflower Baked Ziti. Salads and lemony drinks and parsley everything might make you feel good when you eat them, but no one looks forward to ending the day with a big glass of cucumber juice, right?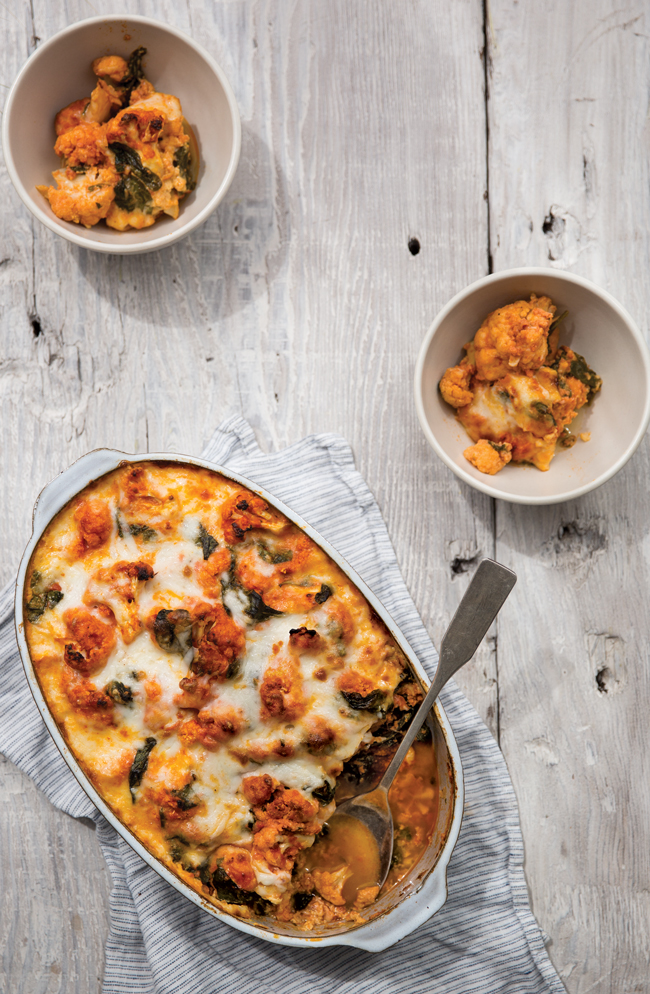 So here's why I love Megan Gilmore's No Excuses Detox—it's a way to detox naturally with healthy whole foods without feeling deprived. You're not on the austerity salad-and-juice plan! Instead, you're eating things like Coconut Lime Pie, Sweet Potato Queso, and yes, Cauliflower Baked Ziti. (!!!) This is sustainable.
It's not an eating plan that you suffer through for a week and then pick up where you left off with takeout and bags of chips. And if you're not just cooking for yourself, you'll love that the recipes in this book are ones that the whole family will enjoy.
Being on a low carb eating plan myself, I was totally intrigued by the idea of substituting cauliflower for pasta in this cauliflower baked ziti. But it works! And it's so good, even my toddler devoured it. I couldn't find goat cheddar, so I used shredded mozzarella instead.
Meat can be added for more protein or if you're vegetarian, you might want to give crumbled tempeh a try—something I plan on doing next time I make this. (Oh, and there will be a next time!)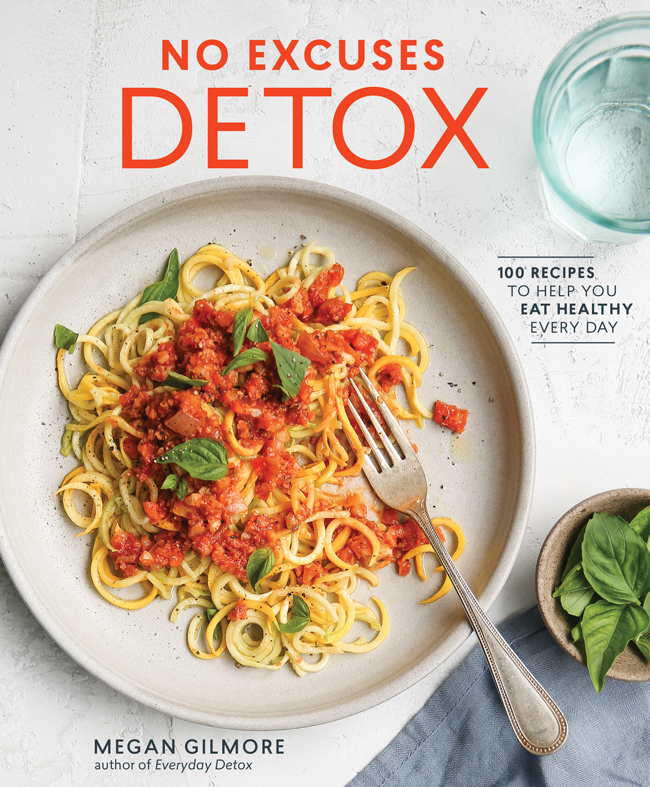 Purchase No Excuses Detox: 100 Recipes to Help You Eat Healthy Every Day on Amazon.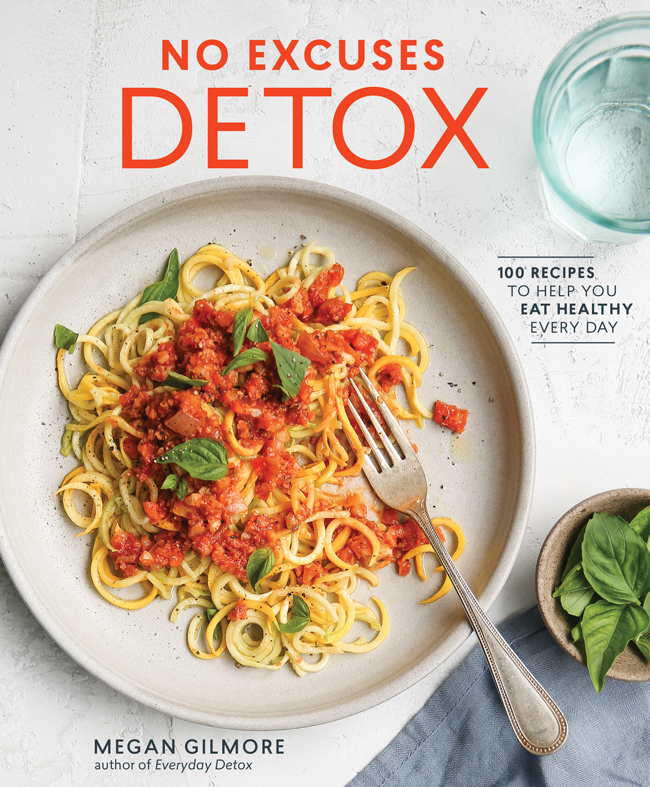 Cauliflower Baked Ziti
Reprinted with permission from No Excuses Detox, copyright © 2017 by Megan Gilmore, published by Ten Speed Press, an imprint of Penguin Random House LLC.
Ingredients
1

head of cauliflower

cut into florets and chopped

2½

cups

Pizza Sauce

4

eggs

1/3

cup

grated Pecorino Romano cheese

½

teaspoon

fine sea salt

2

cups

fresh baby spinach

2

ounces

goat cheddar

shredded
Instructions
In a large Dutch oven, combine the cauliflower and pizza sauce and stir well to coat. Bring the sauce to a boil over medium-high heat and, once bubbling, lower the heat to a simmer and cover the pot to let the cauliflower cook until fork-tender, about 15 minutes.

Preheat the oven to 350°F. In a medium bowl, beat together the eggs, grated cheese, and salt. Set aside.

After the cauliflower is tender, stir in the spinach and simmer to cook off any excess moisture in the pot, to ensure that the final result isn't watery. Remove the pot from the heat and stir in the egg and cheese mixture. Top with the shredded cheese.

Bake for 30 minutes, until the eggs have set and the cheese is bubbly on top. Allow the dish to cool for 10 minutes, then serve warm. Store leftovers in an airtight container in the refrigerator for up to 5 days.
Recipe Notes
MAKE IT AHEAD: You can prepare this dish as a freezer meal by beating together the pizza sauce, eggs, cheese, and salt in a large bowl, then stirring in the raw cauliflower and spinach. Spread the mixture into a 9 by 13-inch oven-safe dish and top with the shredded cheese, then cover and freeze for up to 3 months. To heat, thaw in the fridge overnight, then place the dish in a cold oven. (You don't want to risk a glass dish shattering from a drastic temperature change.) Turn on the oven to 350°F and bake uncovered until the cheese on top is golden and the eggs in the center of the dish are cooked thoroughly, about 1 hour and 15 minutes.
Photography copyright © 2017 by Erin Scott
6