If you're anything like me, you probably spend this week scouring the internet and cookbooks for healthy recipes to get ready for the New Year. I try to eat healthy year-round, and I don't really believe in New Year's resolutions, but there's something to be said for that clean slate that January 1st brings. And let's be real, after the non-stop food overload in December, it feels good to get back to better eating habits.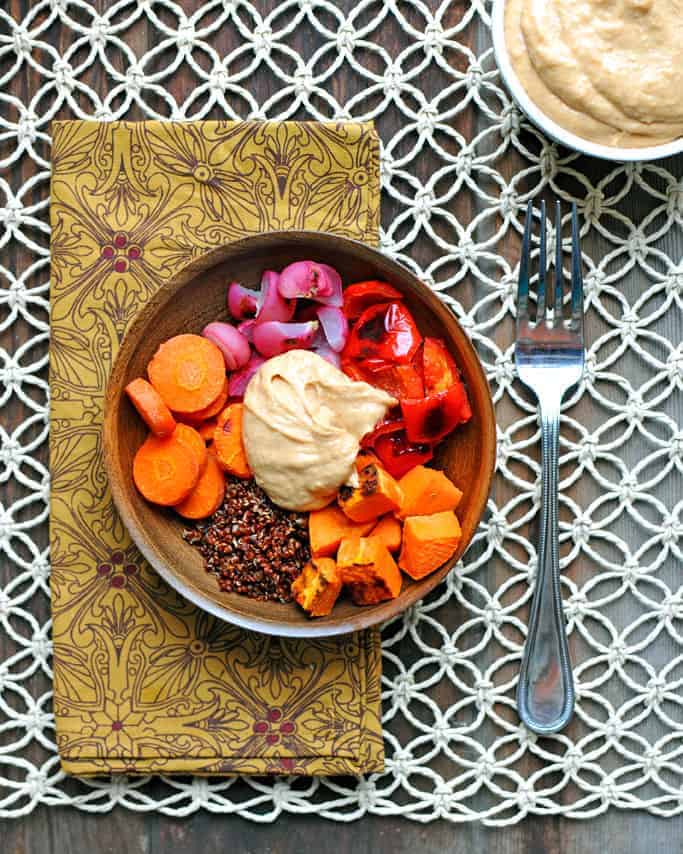 Bowls are one of my favorite ways to eat healthy. Roast some veggies, add a protein, your favorite whole grain or greens, and a delicious sauce and you've got yourself a balanced meal. You can improvise and throw together bowls with whatever you can scrounge up in your fridge and pantry, or you can use a recipe as a template to make sure the end-result is edible. (Well, it's always edible, but whether it's appetizing is a different story.)
These quinoa bowls are from Kelly Pfeiffer's latest cookbook, Superfood Weeknight Meals. Every recipe contains one or more superfood ingredients—and even better, they're all healthy meals your whole family will enjoy and they're ready in 30 minutes or less. (I love that because if it takes longer than 30 minutes, it's pretty much no dice for me.)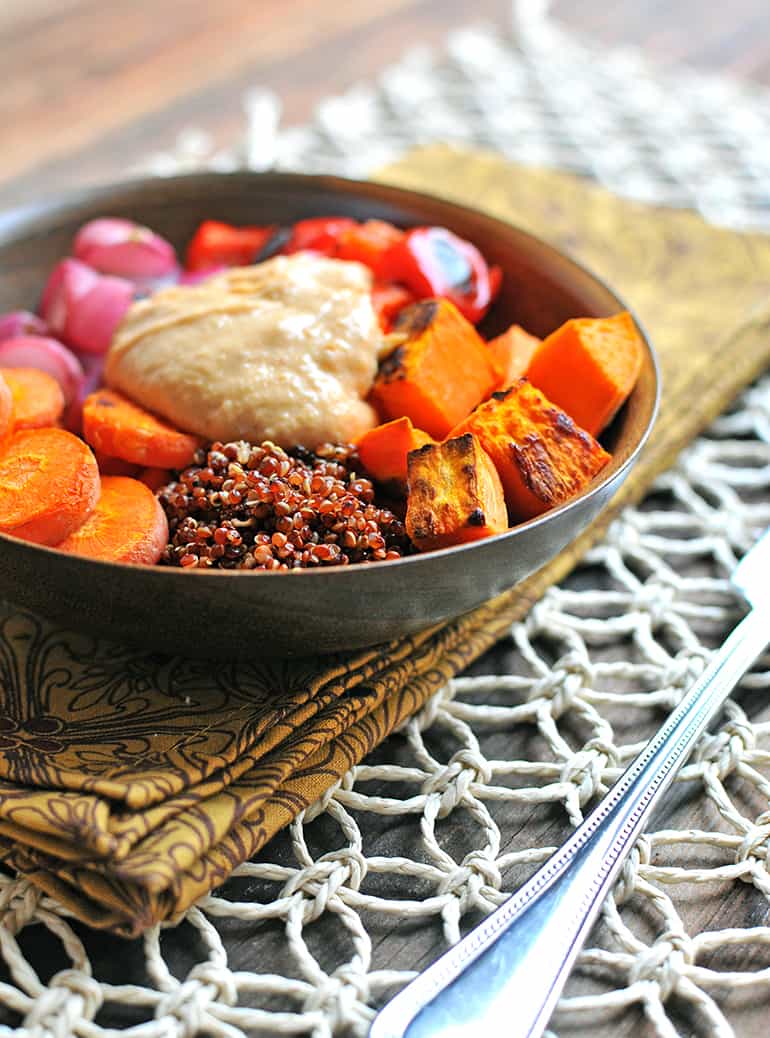 Feel free to customize this recipe with any vegetables you have in your crisper drawer and your favorite protein, or swap out the quinoa for brown rice, greens, farro, etc. But you'll want to keep the creamy Coconut-Almond Sauce as-is because it's so good. Chickpeas and almond butter make it a great source of protein, while coconut milk gives it a boost of healthy fats to keep you full and satisfied.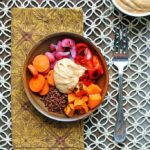 Roasted Veggie & Quinoa Bowls with Coconut-Almond Sauce
Ingredients
For the sauce:
1

cup

canned chickpeas

rinsed and drained

1/3

cup

coconut milk

1/2

cup

almond butter

2

tablespoons

dark amber maple syrup

1

tablespoon

soy sauce

1

tablespoon

fresh key lime juice or regular lime juice

1

teaspoon

minced garlic
For veggie bowl:
Cooking spray

2

red bell peppers

cut into bite-sized pieces

2

large carrots

cut into bite-sized pieces

1

large sweet potato

peeled and cut into bite-sized pieces

6

radishes or 1 beet

cut into bite-sized pieces

2

cups

cooked quinoa

divided
Instructions
To make the Coconut-Almond Sauce:
In a large glass measuring cup, combine the chickpeas and coconut milk. Using an immersion blender, or in a food processor, purée them.

Stir in the almond butter, maple syrup, soy sauce, key lime juice, and garlic until blended and smooth. Set aside.
To make the Veggie Bowls:
Preheat the oven to 425ºF. Line a baking sheet with parchment paper or spray with nonstick cooking spray.

Arrange the red bell peppers, carrots, sweet potato, and radishes in a single layer on the prepared sheet. Bake for 30 minutes or until everything is softened and lightly browned.
To assemble each bowl:
Place 1/2 cup of quinoa into each of 4 bowls. Top each with a generous portion of roasted veggies and a large dollop of Coconut-Almond Sauce.
0