It's summer. It's hot. You want ice cream. Have you hopped on the banana ice cream train yet?
Holy moly.
When your bananas become extra ripe and you just don't feel like turning on your oven to make banana bread (again), simply slice and freeze the bananas, give them a quick whiz in the food processor or blender, and freeze until ready to serve.
Frozen banana ice cream recipe is a miracle – fewer calories, less sugar, no dairy. And it tastes good!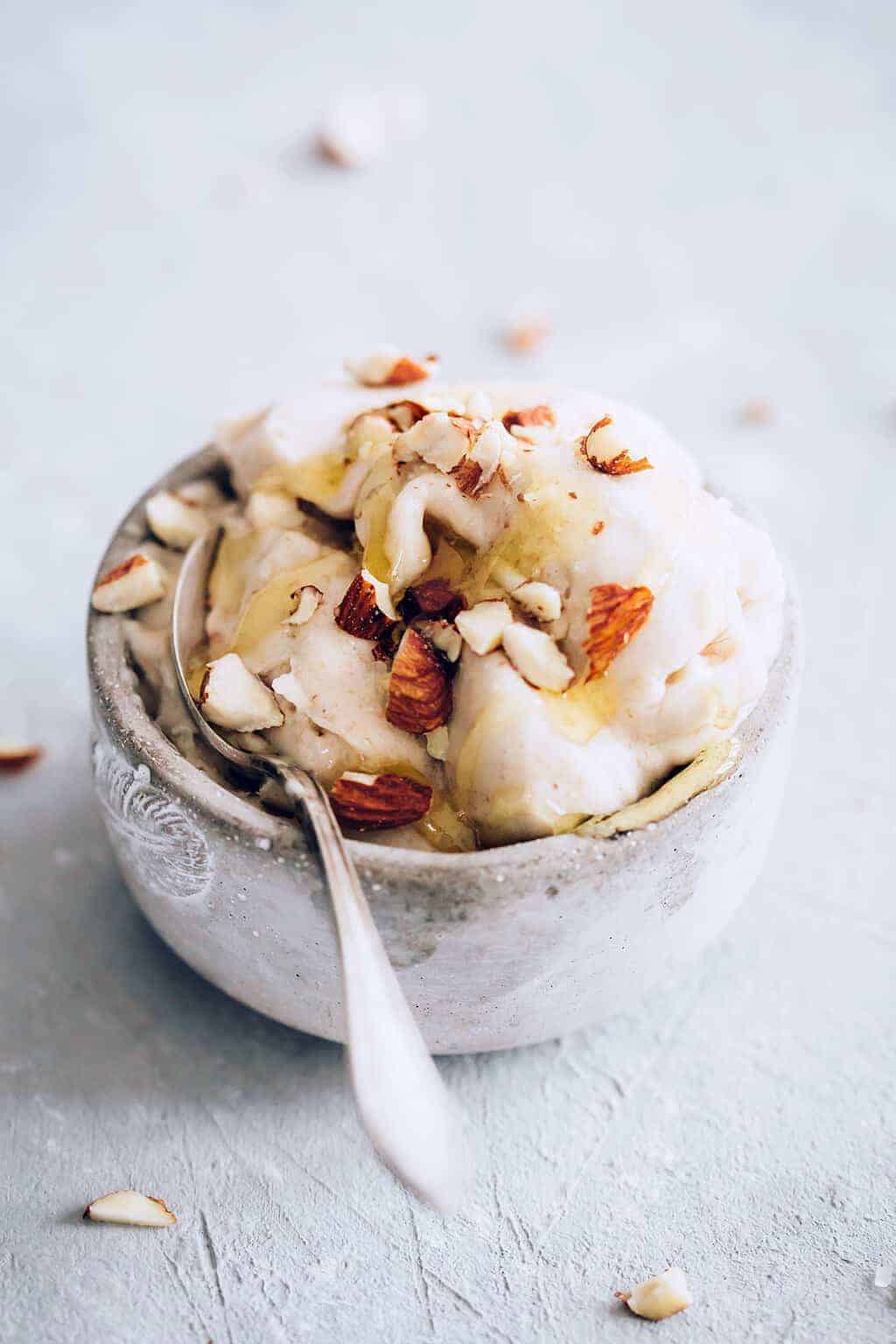 I discovered this banana hack from my gal, Gwyneth. She's so easy to love-hate, right? Her first cookbook, My Father's Daughter, was filled with tasty recipes that are far less intimidating than GP herself. Plus I can now make a perfect frittata in my sleep (and now that I think about it, may actually have).
This recipe is from her new cookbook, It's All Good (which I purchased myself, just like My Father's Daughter). It's full of gorgeous pictures (including one too many of a make-up free GP) and healthy recipes that sound pretty darn edible.
But a major sweet tooth is my downfall, and Gwyneth excels at sweets you can indulge in and not feel guilty giving your kids. Yes, some of the ingredients are weird and hard to find. But after our ice cream success, the flourless crumble and candy bars are next!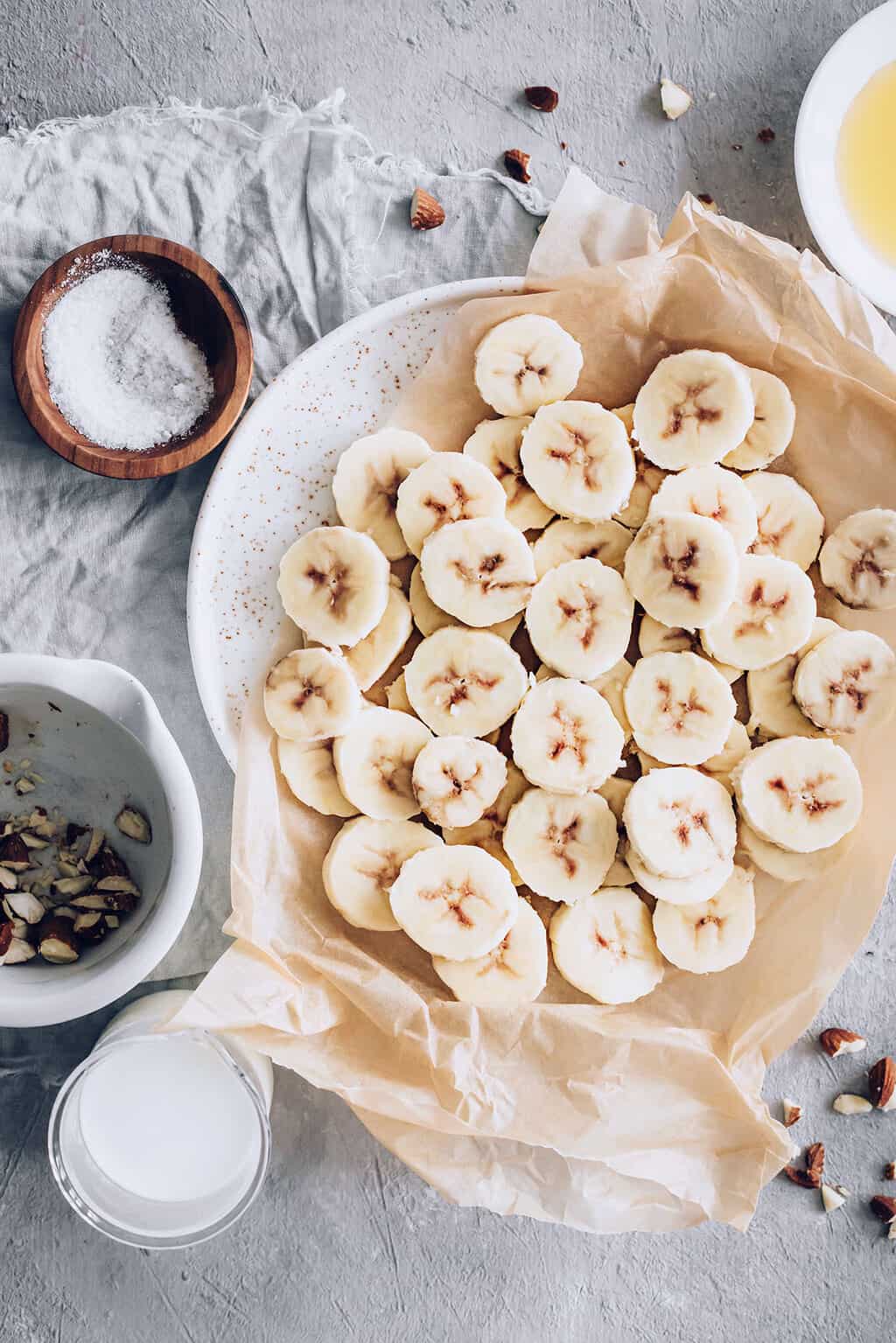 The Basic Recipe for Banana Ice Cream
Peel and slice 3-4 large bananas—that's enough to make one batch or 2-3 servings. It's important to slice the bananas for easier blending or processing. Toss them in a freezer bag and pop them in the freezer.
Bananas frozen through? Yes! Now it's time to make the ice cream.
I prefer my food processor to the blender for making banana ice cream because there's more surface area in the food processor bowl and I feel like it blends easier without melting so quickly. It also incorporates a little more air for an extra creamy texture and it's easier to scrape out.
If your machine has a hard time blending the bananas, add a tiny bit of non-dairy milk. I like to add pure vanilla extract, but you could easily leave it out or substitute it with another extract—almond would be amazing!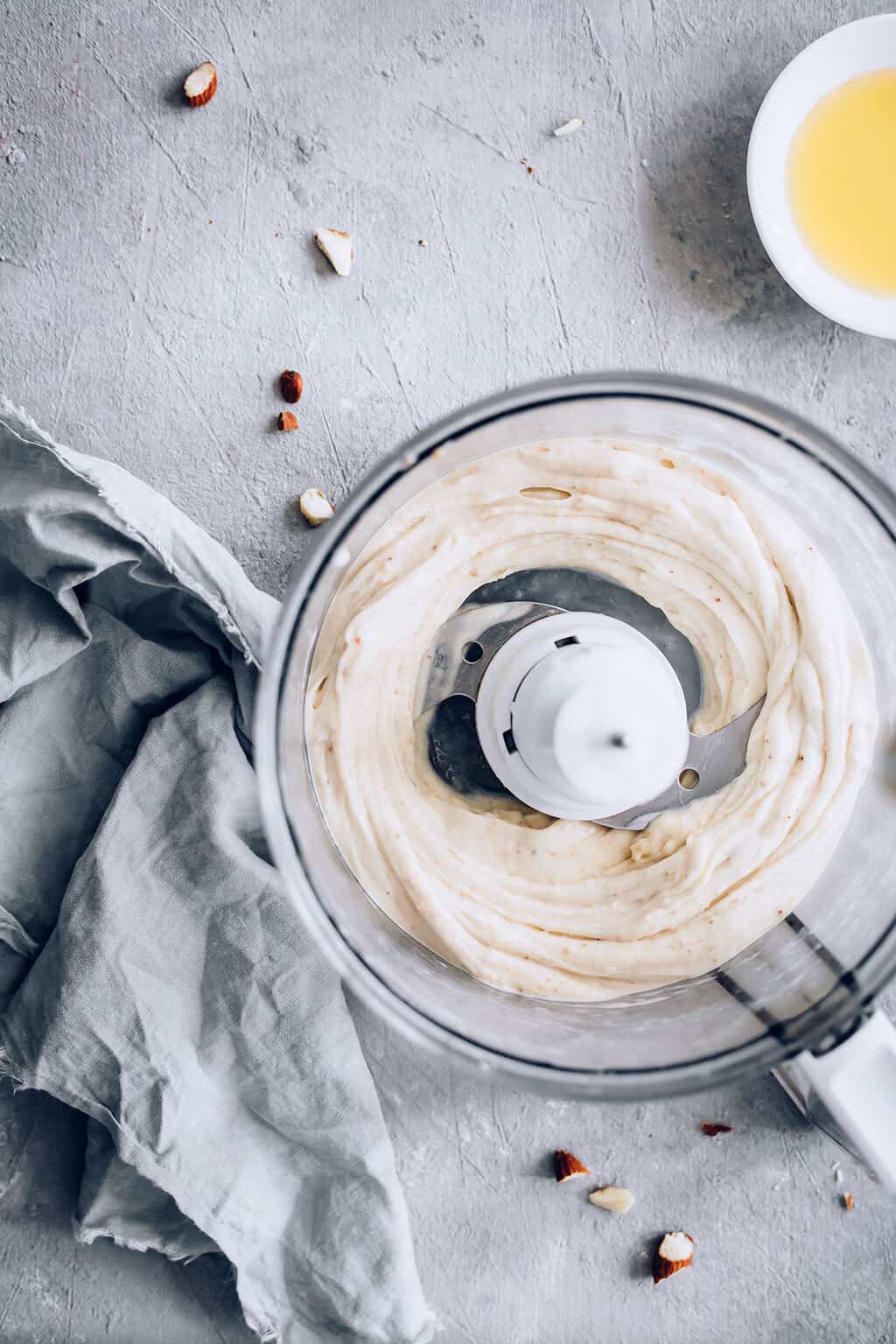 Need variety? Try Golden Milk Banana Ice Cream
Golden milk is taking over the world! Well, not really, but it probably could. Adding these tasty, warming spices brings extra antioxidants and other goodness to your ice cream, plus it tastes incredible.
If you've been averse to drinking your golden milk, have no fear, this hits the spot in a very non-threatening way. A combination of turmeric (hello, golden hue!), cinnamon, ginger, and a tiny bit of freshly ground black pepper adds just the right amount of spice.
As an optional ingredient, we add 1 to 2 tablespoons of MCT oil to help your body really reap the benefits of the curcumin present in the turmeric. Feel free to add more or less spice according to your personal preference.
We recommend scooping up a bowl of this while you're watching your favorite summer chick flick with your gal pals. Make a triple batch so there's plenty for all your friends too!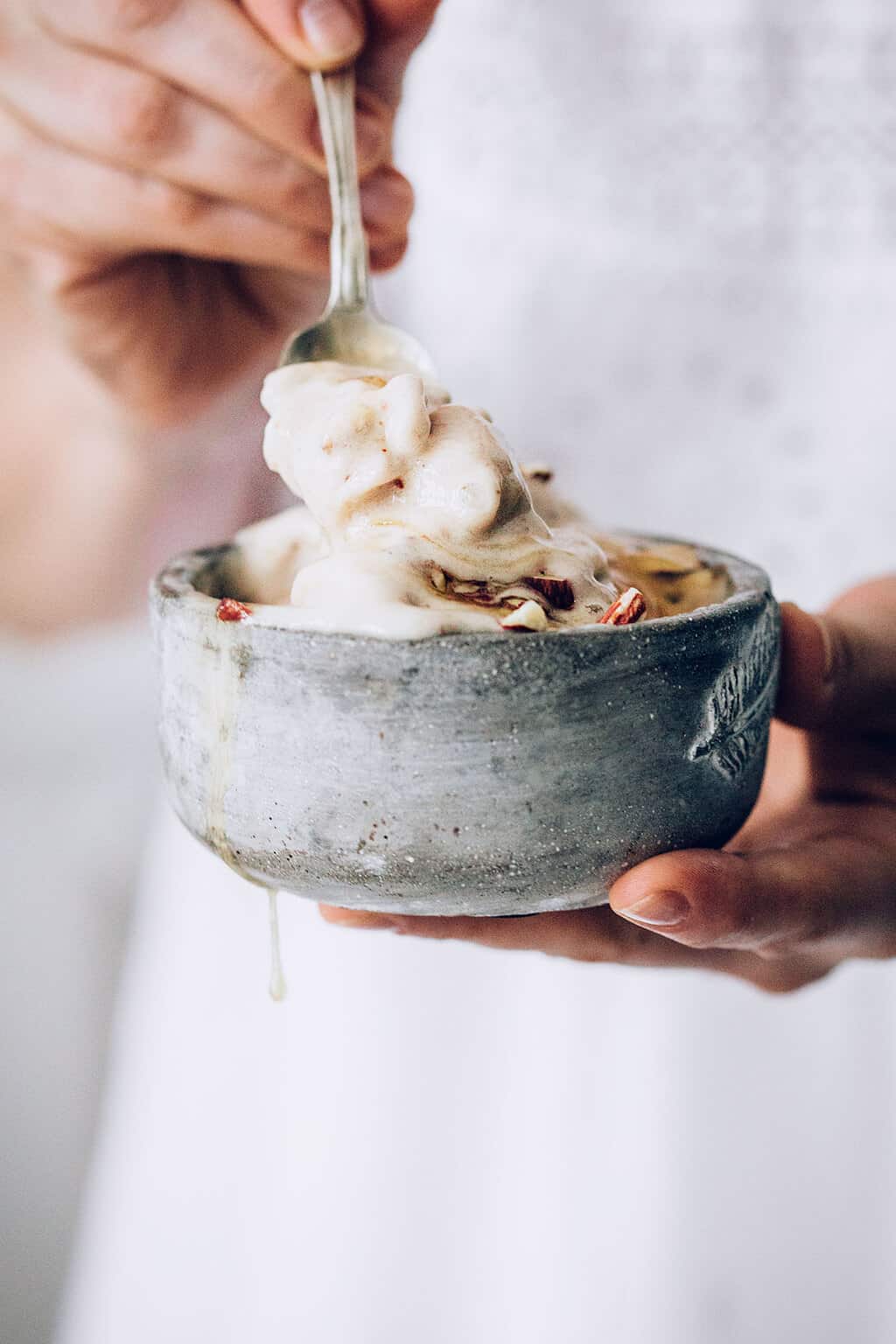 Variation #2: Creamy Chocolate-Dipped Banana Ice Cream Pops
Sigh. Do you remember being a little kid and biting into a chocolate-dipped ice cream cone or popsicle? Remember the way the chocolate cracked and gave way to the rich ice cream below?
These are kinda like that, but made with better-for-you ingredients. Inside is a basic banana ice cream with vanilla added for extra flavor. The shell is made with melted dark chocolate chips and unrefined extra virgin coconut oil.
When the cold bars hit the liquid chocolate, it freezes instantly to encase the creamy banana confection inside. But when you take a bite, the chocolate melts right on your tongue in a heavenly puddle.
Ah, complete bliss. We recommend enjoying this with your kids (or anyone else who loves lazy summer evenings) while watching the sunset.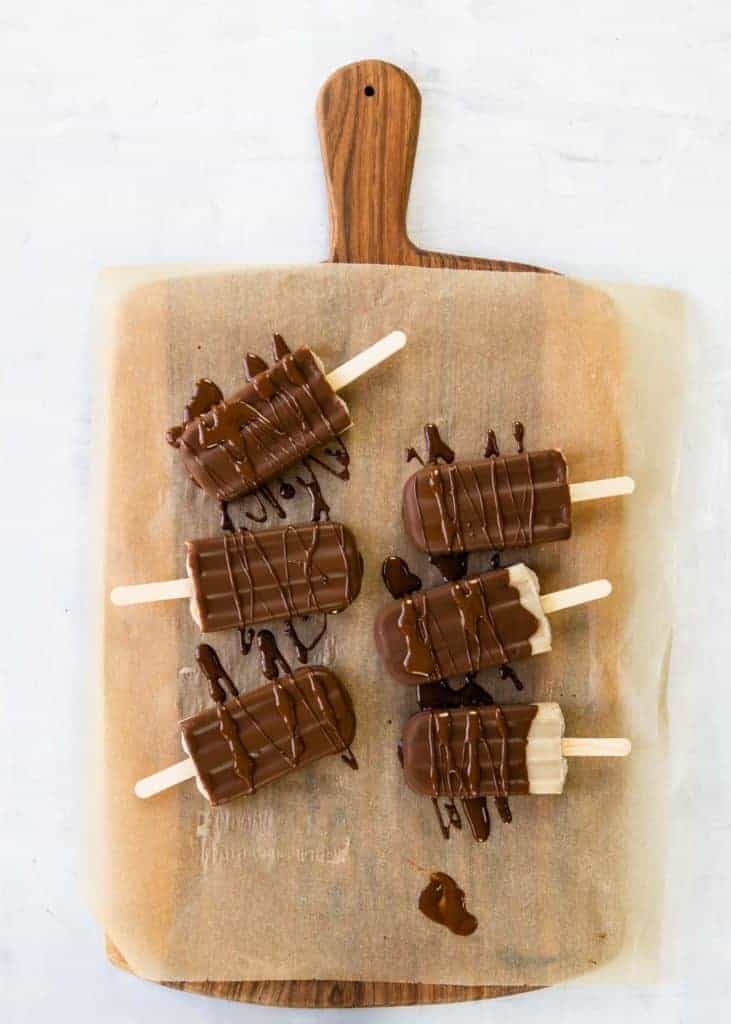 Pro-tip: You'll have plenty of leftover chocolate shell to drizzle on the Golden Milk Banana Ice Cream. We're talking flavor explosion here, folks.
Seriously, who knew this was so easy? If you've never had banana ice cream, you gotta try it. It makes the perfect afternoon treat with the kids.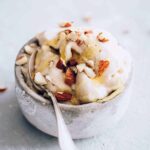 Frozen Banana Ice Cream with Sweet & Salty Roasted Almonds
A quick and easy frozen banana ice cream recipe with a sweet and salty roasted almond topping. Plus two frozen banana ice cream variations if you need variety!
Total Time
3
hours
5
minutes
Ingredients
Banana Ice Cream with Sweet & Salty Roasted Almonds
3-4

ripe bananas

peeled and sliced into thin rounds

1/4

cup

roasted almonds

finely chopped

2

tablespoons

plus 2 teaspoons maple syrup

divided

1/2

teaspoon

sea salt

1/2

cup

unsweetened almond milk

1

teaspoon

vanilla extract
Golden Milk Banana Ice Cream
3-4

ripe bananas

peeled and sliced into thin rounds

1

tbsp

MCT oil optional

1/2

tsp

each: ground ginger, turmeric, cinnamon

1/4

tsp

freshly ground black pepper
Chocolate Dipped Banana Ice Cream Pops
3-4

ripe bananas

peeled and sliced into thin rounds

3/4

cup

non-dairy milk plus more if needed

2

tsp

pure vanilla extract

10

oz

semi-sweet chocolate chips

1/4

cup

unrefined coconut oil

pinch

sea salt
Instructions
Banana Ice Cream with Sweet & Salty Roasted Almonds
Place banana slices in a single layer on a tray lined with parchment paper and freeze at least 3 hours.

In a bowl, combine almonds, 2 tsp syrup and salt.

In a food processor pulse frozen banana slices, milk, vanilla and remaining 2 tablespoons maple syrup, scraping down the sides as necessary, until the mixture is the texture of soft-serve ice cream.

Spoon into bowls and top with almond mixture.
Golden Milk Banana Ice Cream
Freeze sliced bananas in an airtight container or resealable bag for 8-10 hours.

Place frozen banana slices in the bowl of a food processor fitted with the S blade.

Pulse a few times to help chop the bananas. Stop and scrape down sides as needed. Continue processing until bananas are thick, creamy, and smooth.

Add coconut oil, if using, and spices. Pulse a few more times until blended.

Serve immediately or transfer to an airtight freezer safe container until ready to eat.
Chocolate Dipped Banana Ice Cream Pops
Freeze banana slices in an airtight container or bag for 8-10 hours.

Place frozen banana slices, non-dairy milk, and vanilla into the bowl of a food processor fitted with the S blade. Pulse a few times to chop the bananas. Keep processing until bananas are thick, creamy, and smooth. Stop and scrape down sides, as needed.

Spoon the banana ice cream into popsicle molds. Add sticks and freeze until firm, at least 8 hours or overnight.

Prepare the chocolate shell by placing chocolate chips, coconut oil, and salt in a glass measuring cup. Microwave on 50% power for 30 second intervals, until chocolate is melted. Let cool to room temperature.

Remove pops from their mold and dip into the chocolate shell. Place on parchment or waxed paper and place back in freezer to allow ice cream to firm back up. Store pops wrapped in waxed paper in a bag or freezer proof container.
Recipe Notes
You can store leftovers in an airtight container in the freezer for at least 2-3 months.  Let thaw for several minutes before eating.
The popsicles molds used for this recipe yielded ten 3-ounce pops. Other molds may yield fewer, larger pops.
Photos by Ana Stanciu
0