There is nothing saying 'Christmas is here' more than a rich, creamy, and cinnamon-scented eggnog. We're so into this drink, but cream, eggs, and sugar is a combo that most of us would want to avoid, so coming up with a healthier version seemed like a really good guilt-free idea. Our vegan eggnog recipe turned out creamy, velvety, rich, and delicious, and we don't want to stop sipping it!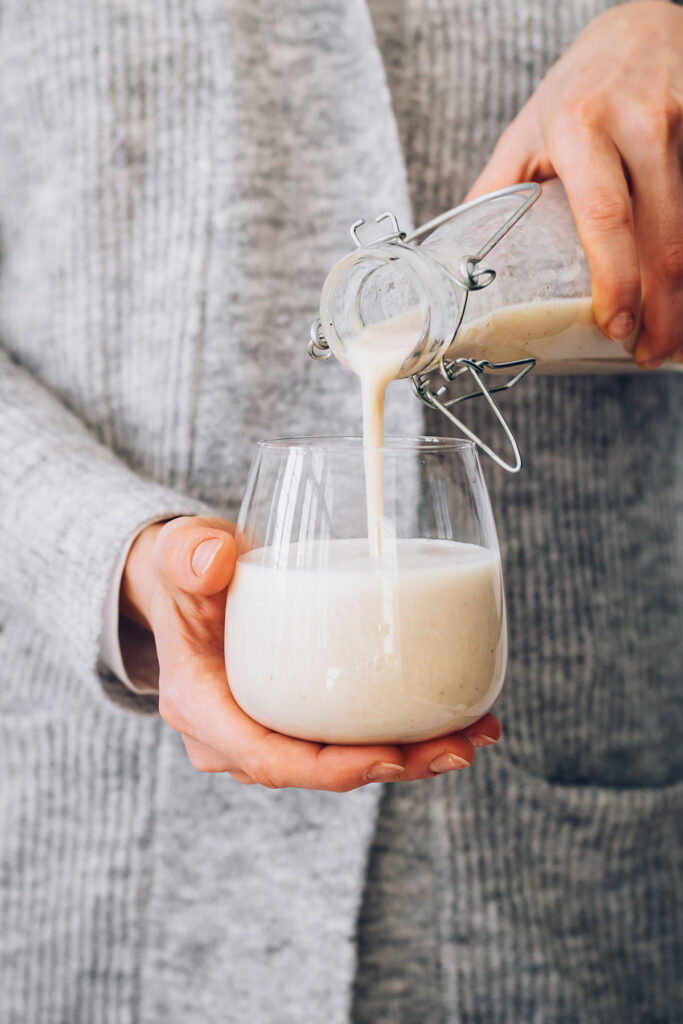 What is vegan eggnog made of?

Turning an eggnog recipe into a vegan one means eliminating eggs, cream, and milk from the picture. What can we put in instead? The plant kingdom offers us so many choices, so why not use ingredients that don't raise your cholesterol or burden your liver and the whole digestive system, but actually nourish your cells and make you feel great?
Refined sugar was another ingredient that we wanted to replace in this vegan eggnog recipe. So, what did we use? Here are the main ingredients for making a delicious, dairy-free, egg-free, and refined-sugar free vegan eggnog: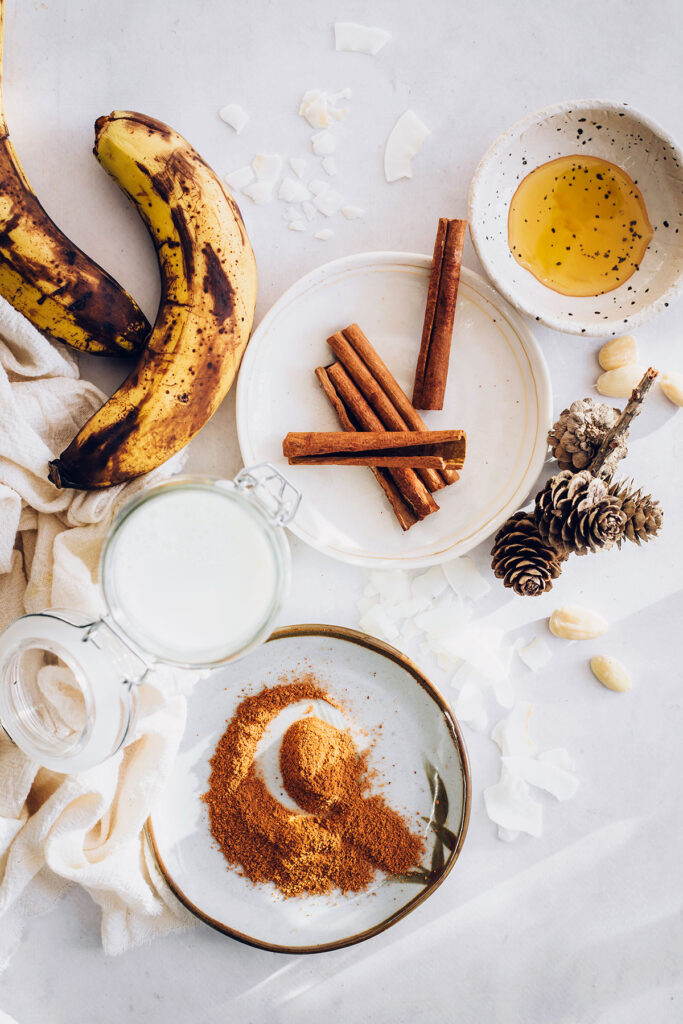 Coconut milk – its rich texture and mild flavor make a great base for our vegan eggnog. However, plant milk will do just fine in this recipe.
Banana – replacing refined sugar with natural sugar from bananas wasn't the only reason why we used this fruit. Banana gives creaminess and sweetens our vegan eggnog, while also loading it with potassium, fiber, vitamins B6 and C.
Almond butter – for extra creaminess plus a good dose of the essential mineral magnesium. Soaked cashews also work for adding creaminess to your vegan eggnog.
Maple syrup – if banana still doesn't make your vegan eggnog sweet enough, you can add some pure maple syrup or coconut sugar.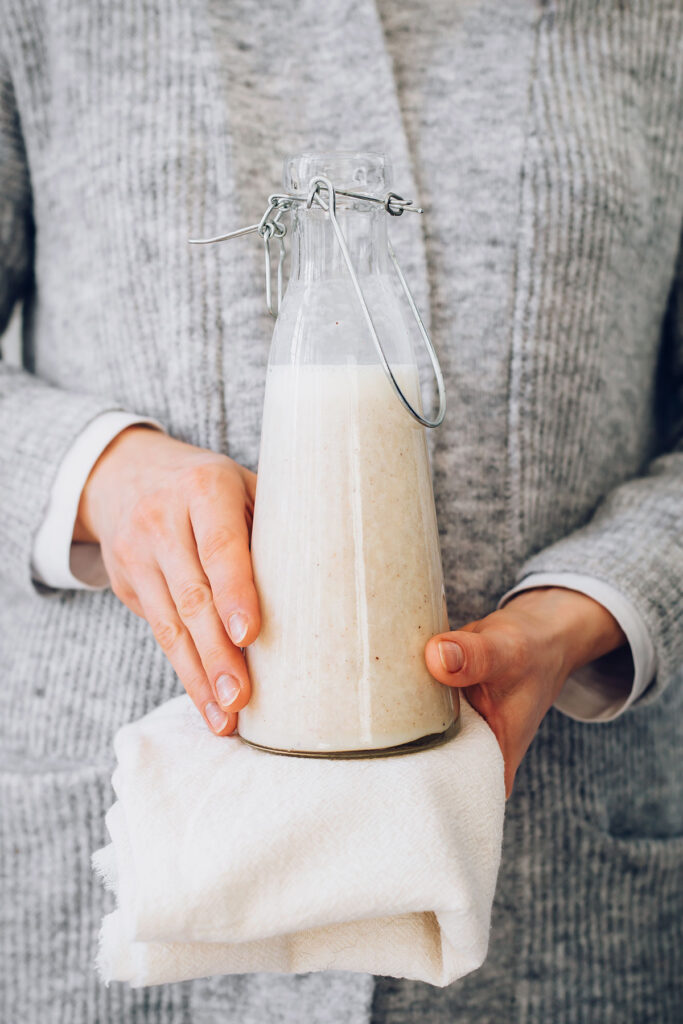 How to make vegan eggnog

The great thing about vegan-izing your eggnog, other than the health benefit, is that it takes just a few minutes to make. You will simply need to add the ingredients into the blender, process well until creamy and combined, then chill and serve.
That's it! The vegan eggnog is pretty much similar to a simple banana smoothie, so no special skills are required here!
What alcohol goes in vegan eggnog?

While traditionally the eggnog is made with rum or bourbon, we skipped the alcohol in our vegan eggnog serving. However, if you want to add a boozy twist to this vegan drink, you can use dairy-free Kahlua, vodka or a liqueur (coffee and amaretto are our favorites).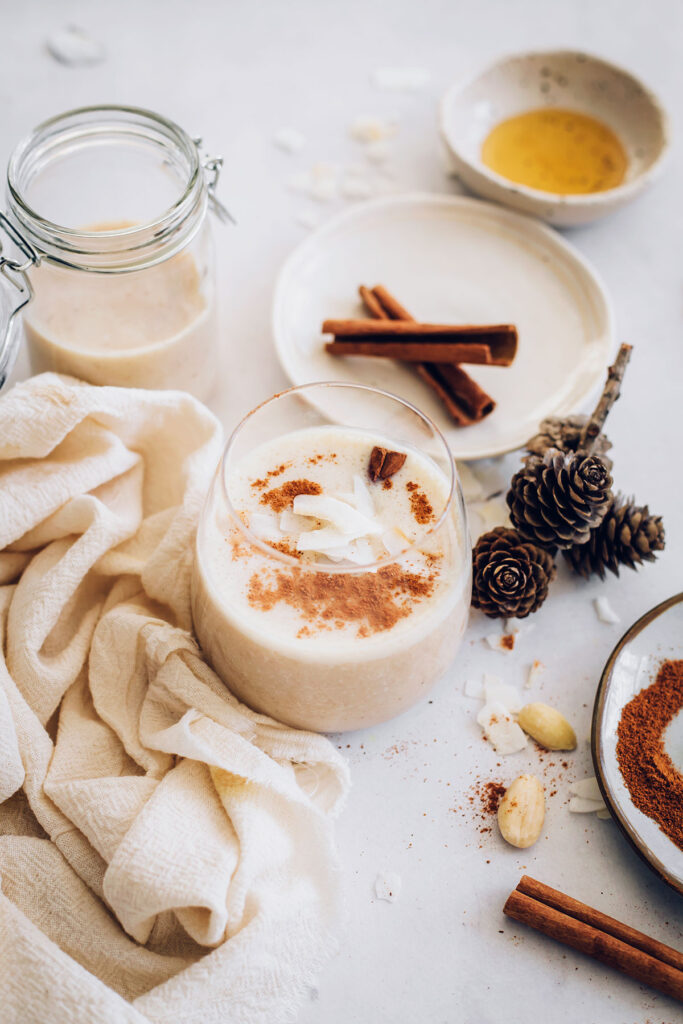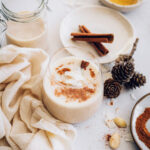 How To Make Vegan Eggnog
A simple and easy vegan eggnog recipe without cashews, made with almond butter and banana for creaminess, and coconut milk for a delicious flavor. 
Ingredients
2

cups

coconut milk

1

ripe banana

1

tbsp

almond butter

1

tsp

cinnamon powder

1/2

tsp

nutmeg
To serve
Optional 2 tbsp coffee liqueur

Coconut flakes

cinnamon powder - to garnish

Optional 2 tsp maple syrup
Instructions
Add all the ingredients into the blender and process to obtain a smooth, creamy liquid. Optional, you can add the coffee liqueur and maple syrup and pulse to incorporate.

Divide into serving glasses, garnish with coconut flakes and cinnamon powder and serve.

You can serve it chilled, over ice or warm, according to your preferences.
0