Print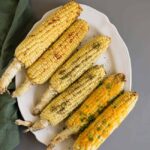 Garlicky Za'atar Roasted Corn
Roasted corn gets a little Middle Eastern flavor from za'atar, plus a hit of garlic.
Preheat oven broiler to low or grill to medium-high heat. Have a broiler pan ready if using oven. Line it with foil. If using grill, brush grates with oil.

Stir together butter, za'atar, garlic, and sea salt in a small bowl. Lay a square of plastic wrap or waxed paper on a clean surface. Place the seasoned butter onto the plastic wrap and form into log. Wrap tightly and place in the freezer to firm up.

Place corn on broiler pan or on the grill. Let cook for 8-10 minutes, turning as needed for even cooking. It's okay if it blackens in spots. Remove from heat and top with 1 Tablespoon of the chilled seasoned butter. Serve immediately.