Print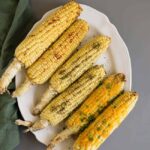 Sweet and Spicy Roasted Corn
Maple and brown sugar mixed with spicy Asian chile paste make a tasty glaze for corn on the cob.
Preheat oven broiler to low or grill to medium-high heat. Have a broiler pan ready if using oven. Line it with foil. If using grill, brush grates with oil.

In a small pan, melt butter and add the brown sugar, maple syrup, and all of the spices. Bring to a simmer and cook until sugar is dissolved and the mixture reduces a bit, about 5-10 minutes. Brush the glaze over the corn. Place corn on broiler pan or grill grates. Let cook between 8-10 minutes, turning halfway through cooking time. It's okay if it blackens in spots. Remove from heat and serve with the remaining glaze on the side.