Print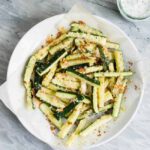 Baked Parmesan Zucchini Fries
A great alternative to French fries, these zucchini fries are topped with parmesan cheese and baked until golden.
Preheat oven to 425° F. Line a baking sheet with parchment paper.

Toss the zucchini sticks with olive oil and season with a little salt and pepper. Arrange in an even layer on the lined baking sheet. Sprinkle the parmesan cheese evenly over the top of the zucchini. Slide the baking sheet into the oven and bake for 10-15 minutes, or until fries are golden and the cheese is crispy. Serve immediately with your choice of sauce.