Print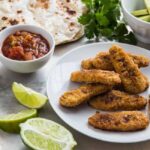 Protein-Packed Meatless Tacos
Crispy, kid-friendly meatless tacos that are ready in a snap!
Preheat oven to 450 degrees.

Place Gardein Seven Grain Crispy Tenders on a microwave safe plate. Microwave on high for 45 seconds.

Transfer crispy tenders to a rimmed baking sheet and sprinkle with cumin and chili powder. Bake for 8-10 minutes.

Place 2-3 crispy tenders on each warmed tortilla. Place a few slices of avocado on top of each taco.

Spoon on salsa and sprinkle with cilantro leaves. Serve!