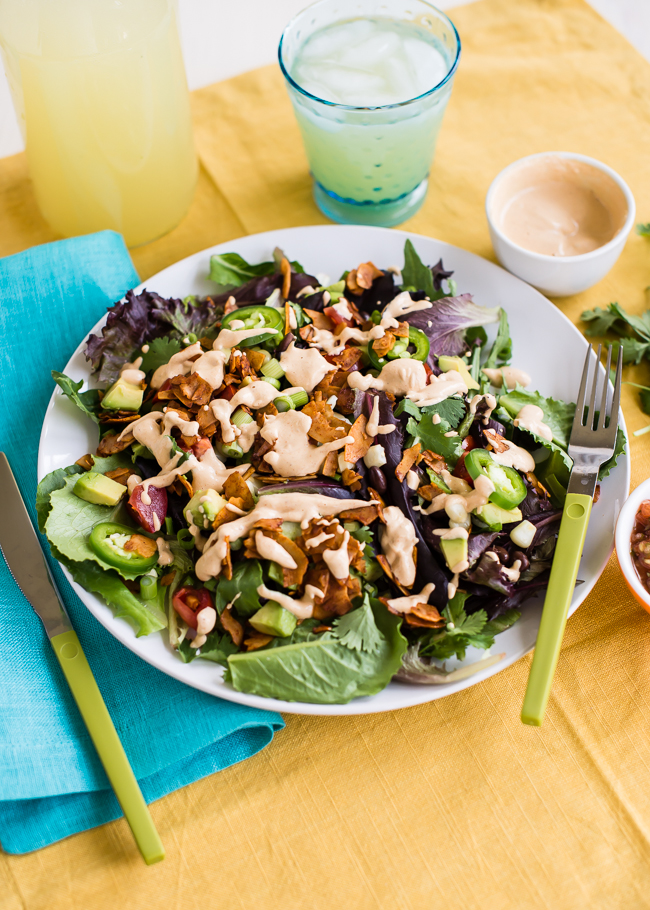 Vegan Southwest BLT Salad with Zesty Lime Dressing
Yield 6
A healthy Southwest twist on the classic BLT sandwich.
Ingredients
One 5 ounce package baby lettuce mix
1/2 cup regular or coconut bacon
2 large tomatoes, diced
2 avocados, diced
1 cup black beans
1 cup corn
1 bunch green onions, thinly sliced
1 jalapeno, thinly sliced or minced, optional
For garnish: tortilla strips, fresh cilantro
For zesty lime dressing:
1/2 cup cashews
1/4 cup water
1/4 cup fresh lime juice
1-2 garlic cloves
1/2 teaspoon chili powder
1/2 teaspoon cumin
salt and pepper, to taste
Instructions
Prepare dressing: Place all of the ingredients in a high speed blender or food processor. Puree until smooth. Add a little more water, if necessary, to reach the desired consistency. Taste and adjust seasonings, if needed. Refrigerate until ready to use.
To assemble salads: Divide the baby lettuce mix between six large dinner plates, or in a very large, shallow bowl. Top with the remaining ingredients. Serve with the dressing on the side.
Notes
-The cashews can be soaked in a bowl of water overnight or for several hours. Rinse and drain well, then proceed with the recipe.
Courses Salad
Recipe by Hello Veggie at https://helloveggie.co/vegan-southwest-blt-salad/