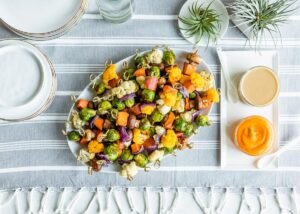 Roasted Winter Vegetable Kabobs with Sesame Tahini Dipping Sauce and Sriracha Mayo

Yield 10-12 servings
Add some flavor and veggie goodness to your holiday party with these tasty veggie skewers with two dipping sauces: a Sesame Tahini Sauce and Lee Kum Kee Sriracha Mayo. 
Ingredients
For skewers:
2 tablespoons savocado oil

2 tablespoons Lee Kum Kee Pure Sesame Oil

24 Brussels sprouts, halved
 if large
1 large sweet potato, 3/4-inch cubes
1 large or 2 small heads cauliflower, broken into florets

8 ounces small cremini or white button mushrooms

1 large red onion, cut into 1 1/2-inch dice

Salt, for sprinkling
6-inch bamboo skewers
Lee Kum Kee Sriracha Mayo, for serving

For Sesame Tahini Dipping Sauce:

1/2 cup tahini

6 tablespoons water

4 tablespoons Lee Kum Kee Pure Sesame Oil

1 1/2 tablespoons fresh ginger, grated or minced

2 garlic cloves, minced

2 tablespoon tamari or soy sauce
, plus more to taste
1 tablespoon maple syrup

1 tablespoon fresh lime juice

1 tablespoons rice wine vinegar
Instructions
Preheat oven to 450°F. Line two rimmed baking sheets with foil. Combine the avocado and sesame oils. Place the veggies in a large bowl and pour the oil over the top. Toss to coat.
Arrange the veggies in a single layer on both baking sheets. Sprinkle with salt. Roast for 10 minutes, then switch pans top to bottom. Roast for an additional 10 minutes, or until veggies are tender and golden. (Don't overcook!) Remove any veggies that have cooked more quickly and allow the others more time.
While the veggies are roasting, prepare the Sesame Tahini Dipping Sauce. In a bowl, stir together tahini, water, and sesame oil. If the mixture is too thick, add a little more water to thin it out. It shouldn't be too thick or too thin. Stir in the remaining ingredients. Taste and adjust seasonings, if needed, to taste.
To serve: Thread the roasted veggies onto the bamboo skewers. Try alternating veggies by color or making some with just one type of veggie. Arrange on a platter with the Sesame Tahini Dipping Sauce and Sriracha Mayo in bowls in the center for dipping.
Notes
Other winter veggies can be substituted for the ones listed above. 
If desired, use oven-safe skewers and thread the veggies before hand. Be sure to soak skewers in water for at least 30 minutes to prevent them from burning.
Test the veggies for doneness during roasting time. Some veggies may cook more quickly than others, for example, the sweet potatoes may need a little extra time. Remove the other veggies from the baking sheet and allow the sweet potatoes to cook awhile longer.
Courses Appetizer
Recipe by Hello Veggie at https://helloveggie.co/roasted-winter-vegetable-kabobs/