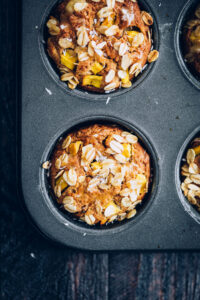 Greek Yogurt Oat Mango Muffins
Yield 12 muffins
These honey-sweetened mango muffins are the perfect way to start the day.
Ingredients
1/2 cup white whole wheat flour
1/2 cup all-purpose flour
1/4 cup packed brown sugar
1 teaspoon baking powder
1/2 teaspoon baking soda
1 cup old fashioned oats
1/3 cup unsweetened dried shredded coconut
1 (7-ounce) container plain whole milk Greek yogurt
1 large ripe banana, mashed
1/4 cup raw honey
1/4 cup expeller-pressed canola oil
1 egg, lightly beaten
1 teaspoon vanilla extract
1 cup diced mango (fresh or frozen)
Instructions
Preheat oven to 400ºF and line a muffin tin with 12 liners.
In a large bowl, whisk together flours, brown sugar, baking powder, and baking soda.
Stir together the remaining ingredients, except the mango, in another bowl.
Pour the wet mixture into the dry mixture and stir until all the flour is incorporated. Gently fold in the diced mango.
Divide the batter into the muffin cups. Bake for about 20 minutes or until a toothpick inserted into the center of a muffin comes out clean.
Cool the muffins in the tins for 5 minutes, then transfer them to a wire rack to finish cooling.
Courses Breakfast
Amount Per Serving

Calories 202

% Daily Value

Total Fat 7.8 g

12%

Saturated Fat 2.3 g

12%

Total Carbohydrates 29.3 g

10%

Dietary Fiber 3.4 g

14%

Sugars 15.6 g

Protein 4.7 g

9%
Recipe by Hello Veggie at https://helloveggie.co/greek-yogurt-oat-mango-muffins/