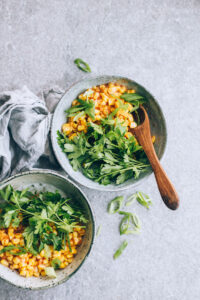 Coconut Milk Corn
Yield 6 servings
A fragrant, sweet-and-spicy side dish made with fresh summer corn.
Ingredients
2 teaspoons coconut oil
3/4 cup sliced green onions (1 small bunch)
6 ears corn, kernels removed
1/2 cup coconut milk
1 teaspoon soy sauce or tamari
1-2 teaspoons sriracha
1/3 cup roughly chopped cilantro
Salt to taste
Instructions
Heat the oil in a large skillet over medium-high heat. Add the onions and cook for about 2 minutes, or until softened.
Stir in the corn, coconut milk, soy sauce, and sriracha; cook for about 5 minutes more, or until the liquid has thickened. Remove from heat.
Stir in the cilantro and season to taste with salt.
Notes
For more of a creamed corn texture, puree half of the corn kernels with the coconut milk; add this mixture to the skillet with the rest of the corn, soy sauce, and sriracha. Cook only until warmed through, then stir in the cilantro and season with salt.
Courses Side Dishes
Amount Per Serving

Calories 138

% Daily Value

Total Fat 7.5 g

12%

Saturated Fat 5.7 g

29%

Total Carbohydrates 18.3 g

6%

Dietary Fiber 2.7 g

11%

Sugars 4.9 g

Protein 3.4 g

7%
Recipe by Hello Veggie at https://helloveggie.co/coconut-milk-corn/